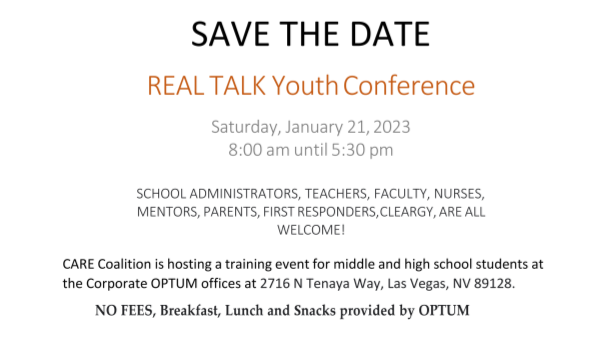 UPCOMING EVENT: REAL TALK YOUTH CONFERENCE
We are hosting a youth conference on Saturday, January 21st from 8am-530pm. We have a capacity of 100 students that we are offering to attend the conference COMPLETELY FREE OF CHARGE. We are also opening the opportunity to our community partners that would like to have a vendor space to come table the event which will also be free of charge. We are only taking students that range from 6th grade to 12th grade. If you have any students in your youth groups that that you would like to attend this conference, THEY MUST BE RSVP'D BY JANUARY 16th. Please keep in mind that we are capping this event at 100 students, and it will be on a 'first come first serve' basis. Breakfast, lunch, and snacks will be provided throughout the day.
To RSVP for vendor space and/or your students for the conference, please contact our administrative assistant, Ashley, at Ashley@CareCoalitionNV.Org or Call 702-463-1415 and we will help you get RSVP'd. If you have any questions regarding the event, please to not hesitate to reach out.