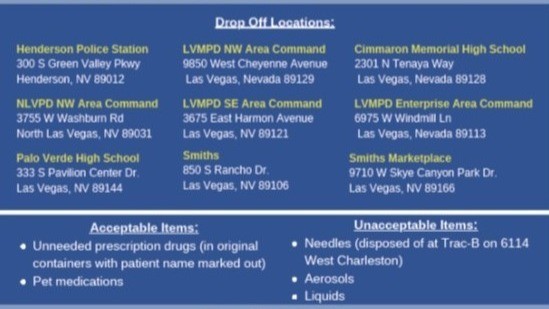 DEA PILL TAKE BACK INFO - APRIL 30, 2022
The DEA Pill take back day is here! On Saturday, April 30th, there will be several pill take back sites available for you to drop off your unused or expired pills. This is a safe way to dispose of pills in a way that is hassle free for you! WE ARE ONLY ACCEPTING prescription pills in original containers or pet medications. WE WILL NOT BE ACCEPTING any needles, aerosols. or liquid medications.
Care Coalition will be at these two locations collecting pills from the community:
Skye Canyon Smith's Marketplace
9710 W Skye Canyon Park Dr., Las Vegas, NV 89166
LVMPD NW Area Command
9850 W Cheyenne Ave Las Vegas, NV 89129
If you cannot make it to these two locations, there are many other locations with organizations that will be collecting pills in an area near you!